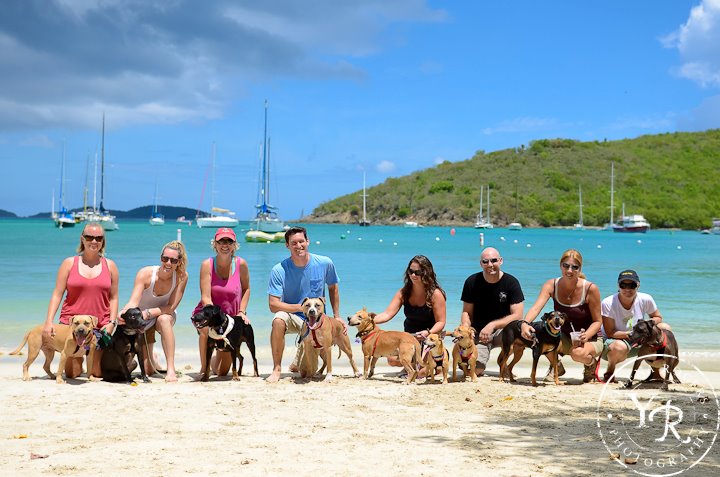 Animal Care Center of St. John - Rescue of the Month, August 2018
St. John is the smallest of the three main U.S. Virgin Islands in the Caribbean Sea with a population of around 16,800 people. As such, the island faces overpopulation problems of dogs and cats. The Animal Care Center was started to combat this problem and help educate the community about animal care. It is with great pleasure to name the Animal Care Center (ACC) of St. John as our Rescue of the Month for August.
We sat down with the ACC's Assistant Manager, Asya Simons, to learn more about the organization's challenges, a particular rescue story, and a look into the future.
Tell us about how the Animal Care Center of St. John was started?
The Animal Care Center was started in order to address the problem of abused, abandoned, unwanted and feral animals on the island of St. John. Being such a small island, issues concerning cats and dogs tend to multiply and grow out of hand in a very short period of time, so an organization was needed to not only address the animals directly, but also to educate and empower local individuals to create a lasting impact on future generations.
What are the biggest challenges the rescue faces?
One of the biggest issues we face is a lack of education in the community concerning animal care. We work hard to educate local residents on how to care for their pets, including preventing diseases such as heartworm, which is rampant in the Virgin Islands. We also help residents provide basic care by offering low-cost dog and cat food, and free flea, tick and heartworm medications. We are also faced with a number of animals who come to our facility with severe behavior problems due to abuse or neglect. We are working to address this problem by implementing a new clicker training program with our staff!
Running a rescue and helping dogs can be tough, both emotionally and physically. Can you share a tough experience or trying moment for the ACC, and what you did to overcome it?
It is always difficult when we take in animals, normally dogs, who have been severely neglected or abused. The time and energy those individuals require to trust people again can be immense, and there are times when it feels hopeless. We had one dog, Joplin, who came to our facility at around 1 year old after being neglected almost to the point of starvation. Our manager, Ryan, went with the local veterinarian to the abandoned building where she was living literally in her own waste, and she was all teeth, completely terrified. After being sedated, treated, and transferred to the ACC, Joplin dealt with a number of behavioral issues such as food aggression, and fear-based aggression towards anyone she wasn't familiar with. It could take weeks for new staff members to be able to approach her without growling. With the constant love and special attention she received, she did slowly learn to trust people again, and came to be one of our favorite residents!
Do you have a network of fosters in the local area that help care for the dogs or do all of the dogs stay in your facility?
The majority of the dogs that come into our care stay at our facility until we are able to place them into homes, as the majority of our adoptions go to the mainland through tourists who fell in love with a dog they walked during their time volunteering. However, we do have a handful of residents on the island who will regularly foster dogs to help them experience a home life, and the community always steps up to help when we have a resident who needs to be in foster care due to age or medical needs.
Where does your primary financial support come from?
Our financial support comes from donations from supporters around the country. We hold a number of fundraising events throughout the year, such as our annual Gala and Wagapalooza, our local dog show, but we also receive donations from tourists who visit the island and come by to get their dose of puppy love!
How many dogs on average do you place in their forever homes annually?
We generally have between 70 and 100 dogs come through our facility in a year, but since Hurricanes Irma and Maria hit the Virgin Islands last September, we have seen almost three times that number, largely due to families who lost everything, and needed to give their furry companions the chance at a better future.

What are the plans for the future?
Last year we were fortunate enough to pay off a piece of land that we can finally call our own! We are working on completing building plans for a new facility that will allow us to expand the number of animals we can care for, increase the level of care we are able to provide, and create new opportunities for volunteers.
If you want to donate directly to the Animal Care Center of St. John, you can here. You can also follow their amazing efforts on Facebook.