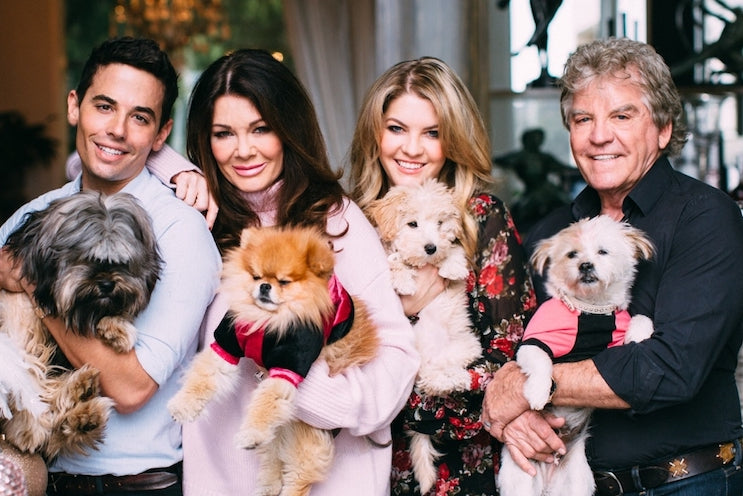 The Vanderpump Dog Foundation - Rescue of the Month, June 2018
British restaurateur, author, actress, and television personality Lisa Vanderpump has added "animal rights activist" to her long list of accomplishments. In 2015, after witnessing the horrific images of slaughter and abuse of dogs in preparation for the Yulin Dog Meat Festival, which in an annual event in Yulin, China, Lisa was determined to do something about this. Executive Director, Dr. John Sessa, recalls,
"[Lisa] immediately started emailing me and calling her husband Ken to see what we could do about it. We immediately made a PSA with Sharon Osborne, executed a large demonstration in front of the Chinese Consulate and made several trips to Washington DC to lobby for House Resolution 401, which we helped author."
It was around this same time that Lisa, Ken, and John realized the huge dog homeless and overpopulation problem occurring in their own backyard in Southern California. In Los Angeles alone, over 3,000 dogs are euthanized in city and county shelters each year. The three knew they had to help, so they started The Vanderpump Dog Foundation in 2016 and opened the Vanderpump Dogs Los Angeles Rescue Center just over a year ago. The Rescue Center is swanky and brings the "Vanderpump" flare and style complete with jazz music, velvet couches, and even chandeliers.
Check out our Q&A with Dr. Sessa below:
What are the biggest challenges Vanderpump Dogs faces?
Dr. Sessa: We have been able to become a huge voice for the voiceless in a very short amount of time and I think our biggest challenge is keeping up with the demand for help. We get hundreds of calls and emails every day about dogs domestically and around the world that need our assistance. It is our duty to make sure we are a source for information and resources for everyone reaching out to us and help as many as we can.
Running a rescue and helping dogs can be tough both emotionally and physically. Can you share a tough experience or trying moment for the organization, and what you did to overcome it?
Dr. Sessa: We have a very dedicated and compassionate team, who strive to help every dog who needs our assistance. I think the biggest struggle and experience we have to continually get over is the inability to help every dog that comes our way. I just always remind the staff that we can help as many dogs as possible today and with our larger legislation and education efforts, we will eventually be able to effect change on a long term and be able to help all dogs. Dealing with loss is always difficult, but a part of the job when rescuing.
Do all of the dogs you rescue stay in the Rescue Center or do you have a network of fosters in the LA area that help care for the dogs as well?
Dr. Sessa: We do a combination of both fosters and in-house dogs.  Our volunteers and fosters have become such an important part of running the non-profit and making sure to keep expenses at a minimum.
Where does your primary financial support come from?
Dr. Sessa: Originally our financial support was solely from Ken and Lisa, which can get tasking and expensive. Thankfully, the model that we have built has a revenue producing entity with our grooming, retail and adoptions. This contributes to about half of our total overhead, our annual fundraisers (World Dog Day and our Gala) produce a significant portion and our wonderful donors contribute the rest. 
How many dogs on average do you place in their forever homes annually?
Dr. Sessa: The first year of operations, we successfully rescued and rehomed 500 dogs. Our goal is to double that this year! 
For those reading this, if they want to help fight the good fight, what can they do to help? 
Dr. Sessa: I suggest they go to www.vanderpumpdogs.org and help our efforts by building your own fundraising team or join one of our existing teams. We have competitions for groups to win prizes, as well as, raise money for our dogs - so it is a win win! Also - there are several other ways to show your support and they are listed on the website.
What are the plans for the future of Vanderpump Dogs?
Dr. Sessa:
In 2018, we want to keep advancing our four major spheres in which we operate: Legislation, Grass Roots Efforts, Awareness and Education.  We are setting up an advanced education program this year with local charter schools, as well as, international education efforts in Haiti, Puerto Rico, Mexico and of course China. We are still lobbying for House Resolution 401 to be put to floor and subsequently passed. As well as, lobbying for Congressman Deutch's PACT Act for domestic legislation. Our
documentary
was recently released and we will continue to support that and its awareness efforts.
Additionally, we are continuing our rescue efforts locally (hoping to double our adoption numbers from last year) and internationally, bringing much needed supplies for dogs to third world and impoverished countries.
In the long term, we would like to eventually open a sanctuary and rescue operation in Malibu on a significant parcel of land.
If you want to help this amazing organization, you can donate here, check out their adoptable dogs, and follow them on Instagram and Twitter.