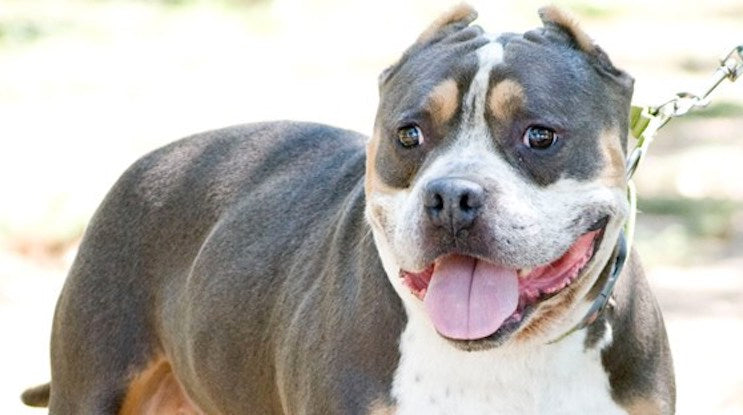 Fresno Bully Rescue - Rescue of the Month, July 2018
For the month of July we're excited to name the incredible Fresno Bully Rescue as our Rescue of the Month! We sat down with Bridgette Boothe, who is the executive director of Fresno Bully Rescue to learn more about the early days, the struggles, and the future.
Fresno Bully Rescue, or FBR, was founded by a small group of people in 2008 just after the California housing market crash. At the time, many people were forced out of their homes and into rental properties. Many landlords did not allow pit bulls to live in their rentals, resulting in an unfortunate influx of pit bulls being surrendered to shelters. The founders of FBR felt like they needed to help and started the organization.
Breed discrimination has been a constant struggle for the rescue. "Housing restrictions limit how many homes we can adopt to. Breed restrictions & discrimination is still very much an issue although its improving. People's feelings about the breed are very black or white. They either love them or hate them. A lot of education is still needed and this is part of our ongoing mission," says Bridgette.
FBR goes above and beyond just rescuing dogs. They provide additional programs including educational, therapy, and volunteer services. The educational services focus on basic breed education and pet care, how to approach a dog safely, how to read an animal's body language for dog bite prevention, dog fighting, abuse, neglect, the importance of spaying and neutering and the consequences of backyard breeding. With regard to therapy services, FBR brings certified shelter dogs to senior assisted living facilities, homeless care facilities, and disabled veterans programs at no cost. The rescue also hosts monthly volunteer orientations for people interested in making a difference in the community.
Running a rescue can be incredibly rewarding, but also very trying, both emotionally and physically.
"Not being able to help all of the dogs in need can be overwhelming. Having to say "no" to the many awesome dogs needing rescue when you simply don't have the space or resources can be pretty discouraging. It sometimes feels that you are mowing a football field with scissors - never-ending. But focusing on the ones you are able to save and help is what keeps you going forward. Seeing the life change for even one dog is worth it," says Bridgette.
Fresno Bully Rescue houses around 40 rescue dogs at any time in their facility and works with local foster caretakers throughout the California Central Valley for other dogs they rescue. Each year FBR rescues an average of around 170 or so dogs, and are solely dependent on private donors and community support.
As for the future, FBR plans on continuing to grow their programs and spread the importance of spay and neutering. If you'd like to donate to Fresno Bully Rescue, click here. Please also follow them on Facebook, Instagram, or check out their available dogs here.