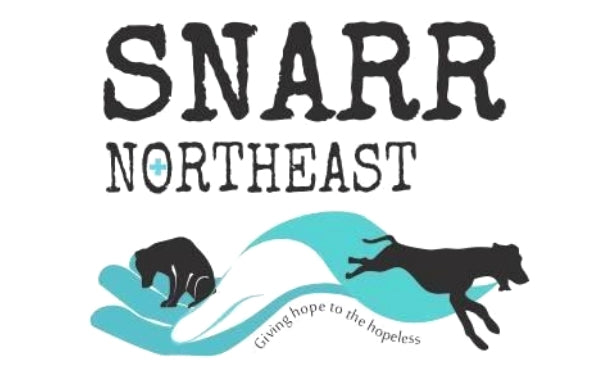 SNARR Northeast - Rescue of the Month, December 2018
We're delighted to be working with SNARR Northeast as our Rescue of the Month for December. SNARR, which stands for Special Needs Animal Rescue & Rehabilitation, gives hope to the hopeless and takes on some of the most heart-wrenching rescues I've seen in a while. We sat down with SNARR board member Joann Burrows who shared some amazing stories and insight into this amazing rescue group.
Tell us about how SNARR was started? Is there a personal story behind SNARR's mission?
SNARR Northeast was started in 2011 and is run by Courtney Bellew. We are based out of New York, but geography does not stop us when it comes to rescuing!

SNARR saves the toughest dogs to place. We rescue the dogs with serious medical conditions, deaf and blind dogs, severely emaciated dogs, the animals that nobody else wants - the dogs that would otherwise be euthanized. We also save perfectly healthy animals as well. There are countless lives and innocent beings who need our help.
Courtney Bellew, of Westchester County, NY visited the Manhattan Animal Care & Control Shelter and came across a special dog named Frankie, a deaf Pit Bull. "There was just something about him, the look in his eyes, his calm nature…something that made me say: I need to help THIS dog!", Courtney recalls. With a full house of her own dogs, Courtney began posting on Facebook for a rescue group to step up and legally take responsibility of Frankie, while her and her husband fostered him. After volunteering for a few months, Courtney realized she had truly found her passion and SNARR Northeast was born. 
What are the biggest challenges SNARR faces?
The biggest challenge we face are extremely expensive medical bills. Being a rescue that specializes in taking on some of the most difficult cases comes with a high price. We are very blessed and lucky to have a handful of veterinarians that give us a discount. They put their hearts and souls into saving these animals with us. 
Medical bills alone amount to anywhere between $10,000 to $30,000 each month.
We are contacted and sought out by networks of volunteers in shelters and other rescues for our expertise, dedication, and passion of special needs cases.
Another challenge we face is having enough foster homes for all the rescued animals to rehabilitate and recover in until they are adopted.
Running a rescue and helping dogs can be tough, both emotionally and physically. Can you share a tough experience or trying moment for SNARR, and what you did to overcome it?
Everyday there is a call or an email from a shelter, another rescue group, or an individual. Physically it is 24/7 answering phone calls, text messages and social media pleas. Emotionally seeing the abuse and neglect hurts.
A very difficult experience from a few years back was Andra Grace. She was tortured, starved & neglected. After she was thought to be of no use anymore, because she was weak and skinny, her abusers paid someone to "get rid of her". The type of payment? Crack cocaine. His method of choice of killing Andra Grace was to drag her behind his pick up truck.
Thankfully two women saw this happening and followed the truck. The people dragging her got nervous and dropped her off the back. Andra Grace was then brought into the vet through Greenville County Animal Control. We stepped in to rescue her and pay for her veterinary needs. So far Andra Grace is very fortunate to be recovering wonderfully, but will need months of medical care and has a long road ahead of her.
One of the people responsible for dragging her behind the truck was caught, but he was only charged with a summons...a worthless ticket. The most he could possibly face being charged with this summons is an $1100 fine and/or up to 30 days in jail.
We were outraged! We banded together and fought for justice for Andra Grace. Our voices were heard and the man now spends his days behind bars
facing a 10.5 year sentence
.
Do you have a network of fosters in the area that help care for the dogs or do the dogs stay in a facility?
We recently purchased a shelter facility to continue our mission of Giving Hope to the Hopeless. We're very excited because the shelter will help facilitate adoption events, save more dogs, cut out all boarding expenses and accept donations of food and other articles constantly offered to us by corporations.
We also have an amazing group of dedicated volunteers that network together everyday - endlessly and tirelessly. There is no pay. No days off. We have fosters as far north as Massachusetts all the way down to South Carolina and across to Texas.
Where does your primary financial support come from?
All of our financial support is from donors. Every penny we have is donated. We rely solely on donations as a 501c3 non-profit.
How many dogs on average do you place in their forever homes annually?
We rescue between 450-600 dogs a year. We also have homed cats, kittens, rabbits, and even guinea pigs!

For those reading this, if they want to help fight the good fight, what can they do to help?
If you are reading this article, you care. To fight the fight, we ask you to foster, donate, or volunteer. Everyone can do their part against animal cruelty. Awareness and support to rescue groups and local animal shelters can be so rewarding.   
If you want to follow SNARR Northeast's amazing work, like them on Facebook, check out their available dogs, and donate today.