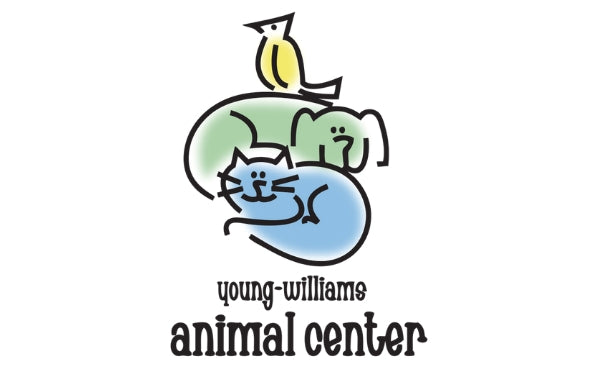 Young-Williams Animal Center - Rescue of the Month, May 2019
For the month of May, we have the honor of working with Young-Williams Animal Center out of Knoxville, Tennessee. This amazing organization was founded by attorneys Lindsay Young and Mark Williams who recognized a growing demand for animal services in the community and felt they needed to do something to help. We sat down with Young-Williams' Marketing Manager, Courtney Kliman, who shared some inspiring insights into their work.
Tell us about how Young-Williams Animal Center was started? Is there a personal story behind your mission?
At Young-Williams Animal Center our mission is to lead the community to end pet homelessness, promote animal welfare and enhance the human-animal bond. Our Vision is a "Home for Every Pet."
Young-Williams started in 2004 as the city/county municipal shelter. In 2012, we became a 501(c)3 nonprofit organization that remains the municipal shelter, taking in nearly 10,000 animals a year. 
We want to see a world where there are no unwanted animals and be a resource for pet owners in our community.
What are the biggest challenges YWAC faces?
One of our biggest challenges is to educate the community about the importance of spay/neuter for your pet.  This is also the key to a world with no unwanted pets. One momma cat, one daddy cat and their offspring can have 420,000 kittens over the course of 7 years. This assumes 3 litters for each cat. So you can see how important it is and the impact even one cat can have on the population.
We strive to provide affordable, accessible spay/neuter services to our community. We have a spay shuttle that travels around the county and since our launch we've altered more than 75,000 pets.  This service is low cost, or free to those who qualify thanks to foundation grants.
Running an animal center and helping dogs can be tough, both emotionally and physically. Can you share a tough experience or trying moment for Young-Williams, and what you did to overcome it?
Compassion Fatigue is a common job hazard in the field of animal welfare. We do see tough situations every day, but we also get to be part of the solution.  We are developing a robust Pet Resource Center which allows us to help pet owners who do not want to surrender their animal but feel they have no choice.
We can keep 40% of pets in their home, who otherwise would be surrendered just by offering support and services such as medical treatment, medicine or behavioral training they may not otherwise be able to afford. Watching a loving pet parent give up their animal is heartbreaking, but thanks to our Pet Resource Center we now see those same pet parents leave with renewed hope and most importantly with their pet.
Do you have a network of fosters in the Knoxville area that help care for the dogs or do the dogs all stay in a facility?
We have more than 500 active fosters and volunteers that save lives on a weekly basis! We even have a core group of fosters that help bottle feed unweaned pets.
Where does your primary financial support come from?
Our primary support comes from generous private donors and foundation grants.
How many dogs on average do you place in their forever homes annually?
We place more than 5,000 pets in their forever homes each year!
For those reading this, if they want to help fight the good fight, what can they do to help?
The best way to help is by making a gift. If monetary support isn't an option, we always encourage people to get involved! By fostering or volunteering you not only help our staff, you change and save animal lives. Even being a social media ambassador for us and sharing our messages help make a difference! We care for small mammals, reptiles, cats and dogs.
What are the plans for the future of Young Williams Animal Center?
Young-Williams Animal Center has a plethora of future plans! From shelter renovations, to expanding our pet resource center, and dog behavior and pet enrichment program, we try and keep our wheels turning and move the bus forward. 
We're at a 90% save rate which earns us no-kill status and strive through our innovative approaches, dedicated staff members and board support to continue to save more lives.
If you want to follow Young-Williams Animal Center's amazing work, make sure to like them on Facebook, check out some of their available dogs, and also donate today.