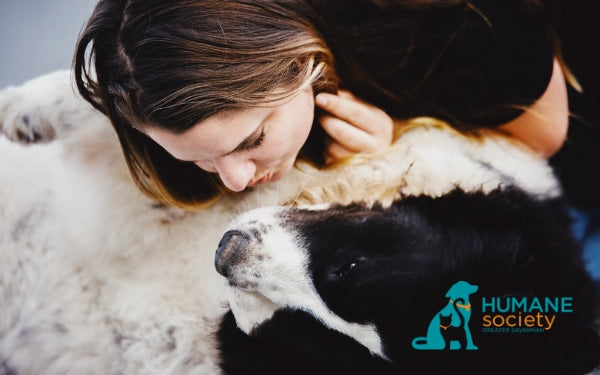 Humane Society for Greater Savannah - Rescue of the Month, January & February 2019
Happy new year! We've selected the Humane Society for Great Savannah as our Rescue of the Month for January! We sat down with Jess Carwile, who is the Public Programs Manager for the Humane Society for Greater Savannah. Check out our discussion below to learn more about their heroic and inspiring work.
Tell us about how the Humane Society for Greater Savannah was started?
More than 55 years ago, a group of concerned animal lovers came together to organize The Humane Society of Chatham-Savannah, Inc. In February 1985, the Humane Society was incorporated under the laws of the State of Georgia. In November of that year, we were recognized as a federally tax-exempt 501(c)3 charity under the provisions of the Internal Revenue Code. In January 2010, we changed our name to Humane Society for Greater Savannah – to more accurately reflect our area of service. We receive no funding from any government agency or animal welfare organization, including the Humane Society of the United States.
In recent years, we have been able to open two "Pick of the Litter" thrift stores featuring donated goods. Fully 100 percent of the profits from our thrift shops go to the animals in our care. In 2016, we also opened Pet Fix Savannah—our on-site, low-cost spay/neuter clinic—which, as of December 2018, has altered 3,500 dogs and cats and provided more than 1,735 vaccinations.
What are the biggest challenges the Humane Society for Greater Savannah faces?
We take pride in the level of public education and care we offer; however, this is often one of our greatest challenges. We emphasize how important it is to understand the hard work, dedication and time it takes to own a pet—which greatly decreases the number of dogs and cats that are owner-surrendered to us or returned shortly after being adopted. We teach our community about the dire need for vaccinations and preventatives as we treat a vast number of dogs for heartworm and other ailments that could have easily been prevented.
Every animal we pull from death-row shelters or are surrendered to us undergoes a thorough and immediate evaluation by our team of dedicated medical professionals and behavioral trainers. The animals are then fully vetted (including spay/neuter services) and are properly cared for before being moved to our adoption center. The challenge here is cost of care. The fees for our surrenders and adoptions do not cover the total amount we invest in the pet's overall well-being. We rely entirely on donations to make up the difference. After all, their health and happiness are our top priority.
Running a rescue and helping dogs can be tough, both emotionally and physically. Can you share a tough experience or trying moment for the Humane Society for Greater Savannah, and what you did to overcome it?
A few months ago, someone surrendered two adorable Pitbull puppies to us. They were smaller than they should've been at that age and had never been vaccinated. Instead of bringing them into our shelter setting, we asked one of our fosters to take them home to provide extra love and care. She followed our strict instructions and did not allow the puppies outside until they were fully vetted; however, one of the puppies—Rambo—almost immediately started to show symptoms of being sick.
After having him tested at a partner veterinary hospital, we discovered he was suffering from parvo. The prognosis was very poor. We were caught up in an untenable situation. We were unable to bring him to the shelter because he posed a high risk of contagion. And yet we were unable to return him to the foster because he was at risk now of exposing his sibling to the disease. And so, we were forced to make the very painful decision to have him euthanized. Our shelter has an extremely low euthanasia rate—almost zero—but extreme situations like this, however rare, are intensely painful. After all, we're animal lovers above anything else.
Fortunately, through great effort, we were able to nurture his sibling back to a healthy, happy state; he was adopted shortly thereafter. He's now a happy resident of his forever home. Realizing that we cannot save them all is one of the most difficult parts of rescue. There are many moments in the everyday activities of a shelter that want to break you—but then you see one you've been able to help and it's completely worth the ride on an emotional roller coaster.

Do you have a network of fosters in the Greater Savannah area or are all dogs at your facility?
Primarily the dogs stay on-site, but any needing that extra bit of attention are cared for by our foster team. We could not do this without our incredible group of dedicated and knowledgeable fosters.
Where does your primary financial support come from?
As a 501(C)3 non-profit, we rely entirely on the support of the community through donations and adoptions.
How many dogs on average do you place in their forever homes annually?
In 2018 alone, we placed 661 dogs in their fur-ever homes and were able to provide behavioral training and medical attention to 38 pets that were then able to stay with their owners.
For those reading this, if they want to help fight the good fight, what can they do to help?
Donate, volunteer, foster, spay/neuter, and adopt! The smallest contribution goes a long way toward building new and improved lives for these pets. For anyone interested in supporting our mission to better the lives of pets and people, you can contribute by donating!
If you want to follow the Humane Society for Greater Savannah, like them on Facebook, check out their available dogs, and donate today.