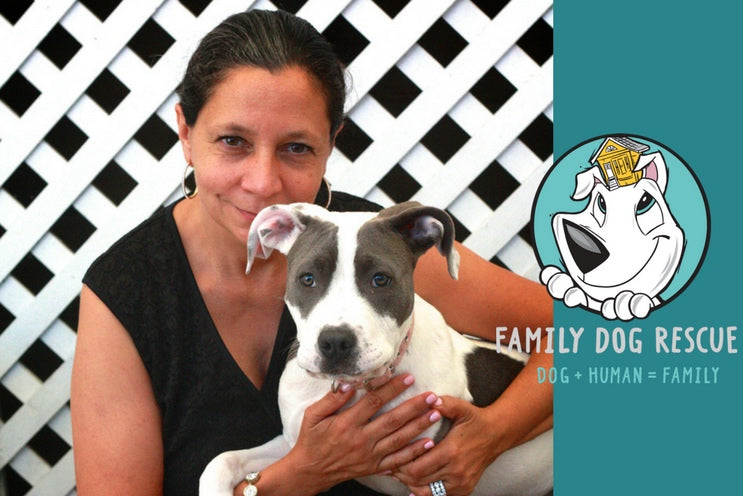 Family Dog Rescue - Rescue of the Month, May 2018
We are incredibly honored to feature Family Dog Rescue as our Rescue of the Month for May. The story behind this amazing organization is truly inspiring and a testament to the power of a dog's love.
Angela Padilla had to fight for her own life before she could fight for the lives of dogs. She was diagnosed with a very aggressive and high-risk form of breast cancer in 2002 when she was only 36 years old. During her cancer treatment, Angela started working for rescues and shelters in San Francisco and spent every afternoon socializing dogs. She also eventually became a foster for hundreds of homeless dogs.
Angela noticed that there was a symbiotic relationship between herself and the dogs. Looking back, she almost feels like she was rescued by the dogs she helped and not the other way around. 
"Saving dogs helped save my life. The profound love that rescue dogs give to the people who save them helped me win my battle with breast cancer," says Angela.
Determined to go into remission after fighting cancer for a year, Angela returned to work. She noticed the curative role her rescue dogs, Hooch, Molly, and Sparkle, played in her recovery and was determined to help find amazing homes for great dogs. In 2010, she decided to start her own rescue, Family Dog Rescue, focused on making it easier for families to adopt a dog. 
Family Dog Rescue is a kennel-free shelter in San Francisco, which houses most of their dogs, but some of their dogs are placed in loving homes within their trusted foster network. As a 501(c)(3) non-profit, they are entirely supported by individual and corporate donations. "We are an organization with a large heart but a small budget. Our biggest challenge is meeting our financial goals to rescue, provide medical care and re-home over 800 deserving pups each year," says Angela.
As Family Dog Rescue looks to the future, they hope to soon be able to sponsor mobile spay/neuter clinics in under-served areas of California. If you want to help this amazing organization, you can donate here, check out their adoptable dogs, and follow them on Facebook and Instagram.