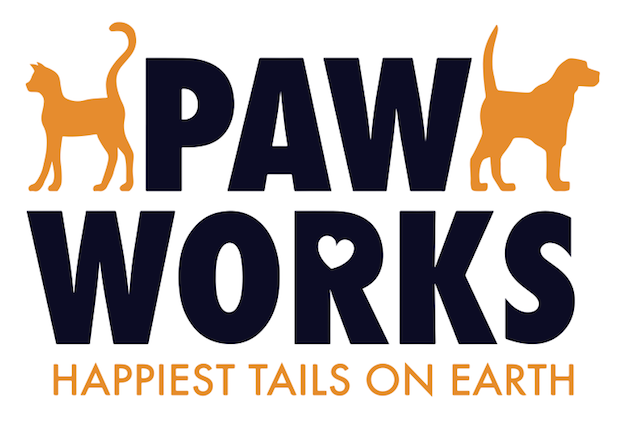 Paw Works - Rescue of the Month, June 2019
This month we've teamed up with Paw Works as our Rescue of the Month. This Sherman Oaks, California based non-profit rescue organization finds forever homes for more than 1,200 dogs a year and has only been around since 2014! Learn more about them below.
Tell us about how Paw Works was started? Is there a personal story behind Paw Works' mission?
Paw Works was founded on January 14, 2014 by Chad Atkins and Christina Morgan. Chad had previously been running his own Doggy Day Care and Boarding business when his client, Christina, had approached him about helping out at a local animal rescue which she was a board member of.
After only three months, they were able to not only raise $40,000 for the rescue but also educate the local community about the importance of animal rescue, spay and neuter and animal welfare. This ignited a fire inside and they knew they were capable of doing so much more so to help the homeless shelter animals throughout our community. They spoke with the heads of Ventura County Animal Services and developed a plan to make Ventura County "no-kill", to which they succeeded in doing in 30 days, and that is when Paw Works was born.
What are the biggest challenges Paw Works faces?
One of the biggest challenges that Paw Works faces is financial resources. Creating a sustainable stream of income that can support the daily activities, demands and expansion of our mission, takes a large toll financially. Paw Works is only 5 years young and we are currently running over $1.2 Million in expenses a year.
The other biggest challenge we have found, is lack of education. In our community and beyond there is a severe deficit of awareness about the importance of rescue, spay and neuter, animal care and resource availability.
Running a rescue and helping dogs can be tough, both emotionally and physically. Can you share a tough experience or trying moment for PW, and what you did to overcome it?
In 2018, Paw Works pulled a transport from California's Central Valley, one of those dogs was a little guy named Horace. What first seemed like typical upper respiratory symptoms, turned out to be Distemper. We fought so hard to get Horace through this knowing his chance of survival was slim. Sleepless nights, countless medical bills and emotional ups and downs. In the end his little body could no longer fight.
Founder, Chad Atkins, spent Horace's last day with him bundled in his arms, offering him the most scrumptious treats, love and words of comfort. Horace went surrounded by love, something it seems he may have never known, and because of him we launched a new branch of education and awareness about communicable disease, vaccinating overall health care of animals. We hope with these initiatives, we will be able to prevent as many animals from meeting the same fate and sweet Horace.
Do you have a network of fosters in the Ventura County area that help care for the dogs or do the dogs stay in a facility?
Both. Paw Works was primarily foster based up until February of 2018. We now have our own private facility equipped with a medical and isolation center, intake room, puppy nursery, cat room and general population area. We also have countless fosters for our pregnant mommas, babies, behavioral, seniors and long term care animals. Due to the abundant support from our Village, we have been able to make a difference to countless lives and for that we are immensely grateful.
Where does your primary financial support come from?
Donations, fundraising, events, business collaborations and in store sales.
How many dogs on average do you place in their forever homes annually? 
1,300 – 1,500 animals are typically adopted annually.
For those reading this, if they want to help fight the good fight, what can they do to help?
Donate, educate, volunteer and of course adopt!
What are the plans for the future of Paw Works?
Paw Works has the goal of becoming a national organization, focusing on global and local initiatives like spay & neuter, disaster relief, education and scholarship opportunities.
If you want to follow Paw Works' amazing work, make sure to 
like them on Facebook
, check out some of their 
available dogs
, and also 
donate today
.