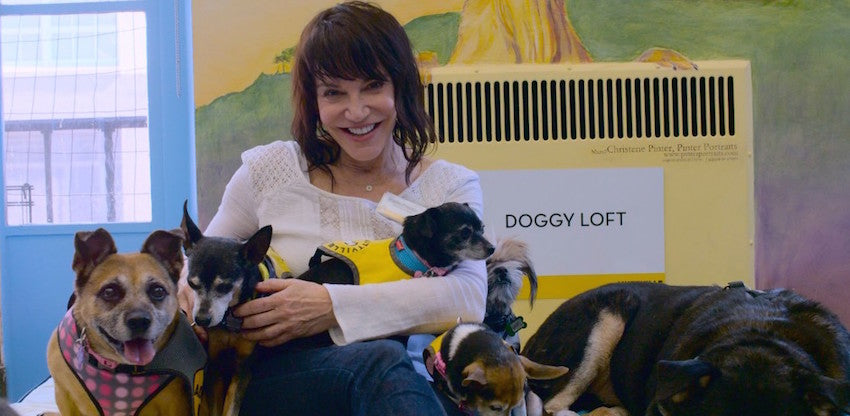 Muttville Senior Dog Rescue - Rescue of the Month, December 2017
Helping rescue dogs is woven into the very fabric of Neptune & Co. There is no better way to celebrate our official launch this month than by featuring Muttville Senior Dog Rescue based in our hometown of San Francisco, California. During the entire month of December, we will be donating $1 for every product purchased to Muttville Senior Dog Rescue.
Muttville Senior Dog Rescue was founded in 2007 by superstar animal advocate, Sherri Franklin. She was inspired to start Muttville after volunteering at local shelters around San Francisco and noticing that senior dogs were always being passed up by potential adopters. She remembers thinking "I had to take action! When I started Muttville, many shelters assumed seniors were 'unadoptable' and routinely euthanized them." Muttville started in Sherri's home and she saved 27 dogs that first year.
In 2012, the SPCA generously allowed Muttville to rent an old administrative space. This allowed Sherri to move the operation out of her house. Amazingly, they have saved the lives of over 5,000 senior dogs since 2007, with over 1,000 of those dogs rescued this year alone.
Aligned with the organization's mission statement, Muttville's biggest success has been helping to change the way people think about senior animals. Sherri explains, "When I founded Muttville, we thought most of our adopters would be senior citizens. We still have a strong and dedicated Seniors for Seniors program (we waive the adoption fee for senior citizens), but many of our adopters are young families and millennials who bring their Muttville dogs to work with them!"
Muttville relies solely on individual donations, which is also one of their biggest challenges. "Most of our dogs come in need of dentals, which range from $700 to $4,000 in cost. On average, we spend $1,600 per dog to get them ready for adoption. Veterinary costs add up quickly!", says Sherri.
As for the future, Sherri told us "We are looking forward to more dogs being rescued. More seniors finding homes. More people understanding that adoption is a lifetime commitment, and that those last years can be the best years. More senior people realizing what a wonderful difference a senior dog can make in their lives. And more families falling in love."
Donate to Muttville by clicking here.
Here are some dogs currently available at Muttville looking for a forever home.
| | | |
| --- | --- | --- |
| | | |
| Violet | Sylvester | Spencer |
| Dachshund, Female, 9 yrs | Jack Russell Terrier Mix, Male, Age Unknown | Maltese/Poodle Mix, Male, 7 yrs |