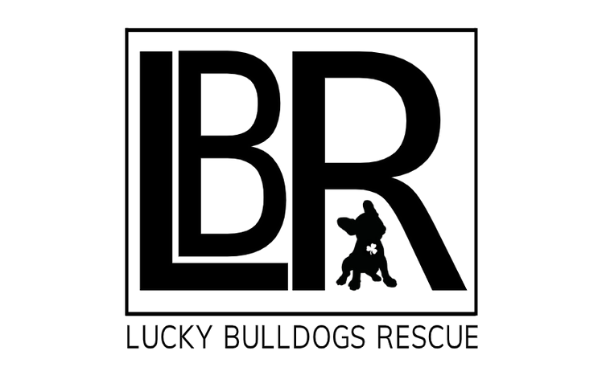 Lucky Bulldogs Rescue - Rescue of the Month, February 2020
We're very excited to be working with Lucky Bulldogs Rescue. These amazing organization 
focuses on rescuing English Bulldogs, French Bulldogs, Pugs, Boston Terriers, and other short-nosed breeds aka "smushie faces". Learn more about Lucky Bulldogs' work below.
Tell us about how Lucky Bulldogs Rescue was started? Is there a personal story behind your mission?
Lucky Bulldogs Rescue was started by a group of experienced volunteers who had all worked together with other rescue organizations in the past. All had ideas of how to streamline the adoption and foster processes and agreed that the top priority for a rescue should be high-quality care for each dog. They decided to team up and shortly after, Lucky Bulldogs Rescue was born.
What are the biggest challenges LBR faces?
As with most rescues the biggest challenge is getting funds for all of the health issues we encounter in rescue dogs, in addition to there being more dogs in need than foster homes!  We encourage anyone interested in opening their home to dogs in need to fill out a volunteer application at the rescue of their choice. We try to use creative ideas to fundraise such as our Dad Bods & Rescue Dogs calendar, auctions, naming fundraisers in addition to just getting the word out and requesting sponsorships and tax deductible donations. Assistance from volunteers is always welcome in any area, not just fostering!
Running a rescue and helping dogs can be tough, both emotionally and physically. Can you share a tough experience or trying moment for Lucky Bulldogs Rescue, and what you did to overcome it?
There are a number of items that can be incredibly difficult in rescues. Seeing abused animals is always heart-breaking. We have taken in dogs who we are grateful they have been released to our care.
We will never judge a family who surrenders a dog to us because they are no longer able to care for them due to any financial situation. This happened in early 2020 with a family who reached out to us. Our volunteer picked up the dog from the family who was heartbroken they could no longer care for their family pet. Due to the severity of the issues, the dog passed away minutes into the intake transport. We are a family, the dogs are our family and we were all distraught.
Do you have a network of fosters in the area that help care for the dogs or do the dogs stay in a facility?
Our rescue is 100% foster-based. The majority of our fosters are located in the midwest, but we are lucky to have homes across the country which allow us to save dogs regardless of their location. The core of our mission is to rescue as many dogs as we can from the commercial breeding system and private surrenders due to behaviors and/or serious medical issues.  Most retired commercial breeders require time and patience in order to learn how to trust humans and live their life as an adored pet. By utilizing foster homes, we are able to ease the transition from breeding facility to forever home.
Where does your primary financial support come from?
The vast majority of our financial support comes from the generosity of individual donors. We were able to get a strong start at the end of 2019 with the success of our Dad Bods & Rescue Dogs calendar as seen on the Hallmark Channel,
Daily Mail
,
Bored Panda
,
PopSugar
,
Scary Mommy
,
Rover.com
,
Cesar Millan
,
Ozzy Man Reviews
,
The Dad
, and many other well-known websites.  We also run Facebook charity auctions with donated items.
How many dogs on average do you place in their forever homes annually?
Our rescue is less than 6 months old, we were founded in the end of October 2019.  In that short time we have found forever homes for four lucky dogs. We currently have three dogs we are reviewing applications for, three we are currently accepting applications for, and eighteen more smushies currently in foster.
For those reading this, if they want to help fight the good fight, what can they do to help?
We are always looking for volunteers to support our mission. The biggest limit to how many dogs we can save is whether or not we have a home to place them in and a way to get them to that home. If you are reading this and want to help, please fill out
this form
to become a volunteer! We welcome volunteers from all areas and can use help with many responsibilities such as transportation, fundraising, and administrative work. If readers are unable to volunteer, please consider donating and even sharing social media posts to help spread the word. If smushy faces are not the readers thing, please find a rescue for your dog of choice and see how you can help out! Volunteers and Donors are the foundation of rescues!
What are the plans for the future of LBR?
LBR is just getting started!  We hope to rescue and rehabilitate as many French Bulldogs, English Bulldogs and other brachycephalic breeds by providing quality care and sanctuary in a family environment until loving forever homes are found as we are able to!  We hope to spread the word and bring awareness to the fact that you can get in demand breeds in rescue, but also raise awareness of the potential health issues that these breeds can have and educate potential owners and owners about those.  We hope to grow our volunteer and donor support base in order to help do this!  
If you want to support LBR, please donate now. You can also follow them on Facebook.