It is an honor to name the West Columbia Gorge Humane Society as our Rescue of the Month for March. Their mission is to end unnecessary euthanasia of all healthy or treatable companion animals in our community and find them permanent, loving homes.
We sat down with WCGHS's Volunteer and Programs Manager, Cathi Parent, who shared some great insights into the incredible work this organization does every day.
Tell us more about the West Columbia Gorge Humane Society.
West Columbia Gorge Humane Society (WCGHS), established in 1994, is an independent, 501c3 nonprofit, animal shelter located in Washougal, WA. What began as a small, private, home-based cat rescue many years ago, has grown into a site-based animal shelter and extensive foster network, that now helps over 500 homeless cats and dogs find loving new homes each year. WCGHS operates both a cat and dog shelter (two separate buildings), and offers a variety of programs and services to support pets, and their people, throughout the community.
Animals come to WCGHS through owner surrender, transfer from partner organizations both in-state and out-of-state, and Animal Control. WCGHS is contracted with the cities of Camas and Washougal, WA to provide animal care services to impounded dogs found within the city limits of both cities. We have dedicated staff and volunteers who care for our animals and manage our programs. Like all shelters, we have limited space and resources, but when we accept an animal into our care, we make a lifetime commitment to its welfare.
What are the biggest challenges WCGHS faces?
One of our biggest challenges is raising enough money to cover our medical expenses, which, for any one animal, can range from a few hundred dollars for routine vaccinations and spay/neuter, to thousands of dollars for a life-saving surgical procedure. As a shelter committed to a no-kill mission, we do not euthanize healthy or treatable animals regardless of time, space, breed or age. That means, we work with each and every animals' individual needs regardless of the cost, in order to prepare them for placement into a loving new home.
With over 500 animals a year needing some degree of medical care, our expenses add up quickly and average approximately $100,000 annually for this alone. The most distressing situation is when we take in an animal who has multiple medical issues that need to be addressed in order to be placed up for adoption. The costs for that one animal can sometimes reach up to $10,000, especially when complications arise and the animal needs emergency treatment or additional surgeries. Money raised through fundraisers, donations and sponsorships help pay for some of these more costly medical procedures that put a strain on our budget, and can mean the difference between life or death for a deserving animal.
Running a rescue and helping animals can be tough, both emotionally and physically. What were two tough experiences or trying moments for WCGHS, and what was done to overcome them?
Spirit: One evening back in June of 2018, a tiny kitten was found in a box, abandoned and clearly suffering from severe, life-threatening injuries. We immediately brought her to the veterinarian for evaluation. It broke our hearts when we found out that our newest rescue had a pelvis that was fractured in four places and several broken ribs. This tiny kitten was only 4 weeks old and had no use of her back legs or control over her bladder or bowel movements.
These injuries, in combination with her age, may have resulted in humane euthanasia at many other shelters, but we saw this little girl had a big personality and a will to live, so we named her "Spirit" and decided to give her a chance. After emergency surgery, she was placed in a special foster home for recovery. Amazingly, within a few weeks, she was walking again, and had full control over her bladder and bowels.
Shortly after being cleared for adoption, a wonderful family came in and decided to not only adopt Spirit, but also another kitten for her to play with! If you saw her today, you would never know how difficult the beginning of her life was. Spirit is a kitten who will forever remind us why we do what we do. Her success, and others like her, keep us going and help us deal with the not so nice side of animal rescue.
Miracle: Miracle, a senior poodle, was discovered lying still in a bush, by a woman out on a walk, in the Spring of 2017. The woman scooped her up, wrapped her a blanket and brought her to us. Miracle was in very bad shape; underweight, listless, blind, deaf, her fur was dirty and matted, and her nails were so long they curled into her paw pads. Most likely Miracle had been abandoned after suffering for a very long time from severe neglect. Upon examination, in addition to her obvious health issues, she was diagnosed with a heart condition, tumors and severe dental issues.
Miracle is another example of an animal that may have been euthanized at any other shelter due to her age and complex medical issues. But something told us to clean this old girl up and give her a chance, so we put her on antibiotics and waited to see if her infections would clear up. They did and she started showing signs of improvement, so we went ahead with surgery to remove her tumors and several of her teeth in order to clean up her mouth. Miracle eventually recovered and showed us that she was worth every penny. She was still an old girl, assumed to be 14, but she was feeling better, loved and hadn't been left to die in a bush.
We knew the chance of Miracle being adopted at her age was minimal but we found a family for her that was experienced with old dogs and had worked as a hospice foster in the past. It was the jackpot for Miracle and allowed her to live the rest of her life in a happy, loving home with other dogs and walks with the family in her own personal stroller! She made an appearance with us in the Camas Days Parade the summer of 2017 in her stroller, too! Miracle lived for another 10 months until she passed away peacefully in her sleep.
Does WCGHS have a network of fosters that help care for the animals or do most of the animals stay in the facility?
We have a robust foster care program for both dogs and cats. Without which, we would not have the lifesaving reach we do currently. Our dedicated foster volunteers aid by opening their homes to dogs and cats when they are in need of short, temporary or long-term care and attention. Animals in need of foster may be recovering from medical procedures, pregnant, kittens or puppies who are too young to be in the shelter environment, or animals who need special socialization and training, or are not thriving in a shelter setting due to fear and anxiety. Placing an animal in foster care doubles our life-saving capacity, as it opens up space for another homeless pet to come into the shelter and receive the care and shelter they need while they await adoption.
Where does WCGHS' primary financial support come from?
Our primary financial support comes from individual and corporate donations, adoption fees, grants, events, sponsorships and other fundraisers.
How many pets on average does WCGHS adopt out annually?
The number of adopted pets has increased each year. In 2017, we adopted 482 pets. (81 dogs and 401 cats). In 2018, that number went up to 560 pets adopted (101 dogs and 455 cats)!
How can people help WCGHS?
Adopt. Donate. Volunteer. Do any, or all, of those three things and you can make a difference in the lives of animals in need in your community! As an independent, nonprofit organization, West Columbia Gorge Humane Society relies on donations and volunteers to continue its life-saving mission. Every dollar raised through donation, or saved through volunteer manpower, helps save lives! And, of course, providing the warmth and comfort of your home by adopting a pet in need not only saves one life, but two, by opening up a space for another animal in need to come into our care.
What are the future plans for WCGHS?
The future is bright for West Columbia Gorge Humane Society! We plan to double our life-saving capacity to 1,000 animals in the next two years, and, we have increased our collective impact in Southwest Washington by partnering with two other local Humane Societies who share the same vision of making Southwest Washington a more compassionate community for both pets and their people. The Humane Southwest Network (HSN) is a coalition between West Columbia Gorge Humane Society, the Humane Society of Southwest Washington (HSSW), and the Humane Society of Cowlitz County (HSCC).
It is unique in nature, as it is based on a shared services model that allows for sharing resources among partners. By minimizing the duplication of efforts, each organization saves time, money, and energy so that more time, money and energy can be spent saving lives and providing resources to the community. At this time, our shared services include: marketing support, accounting services, volunteer training, community outreach, veterinary care, and animal transfers between HSN partners and out-of-state shelters.
If you want to follow West Columbia Gorge Humane Society's work, make sure to like them on Facebook, or check out their available pets and donate today.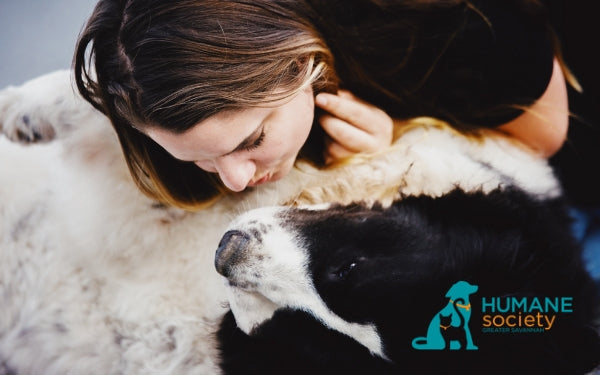 Happy new year! We've selected the Humane Society for Great Savannah as our Rescue of the Month for January! We sat down with Jess Carwile, who is the Public Programs Manager for the Humane Society for Greater Savannah. Check out our discussion below to learn more about their heroic and inspiring work.
Tell us about how the Humane Society for Greater Savannah was started?
More than 55 years ago, a group of concerned animal lovers came together to organize The Humane Society of Chatham-Savannah, Inc. In February 1985, the Humane Society was incorporated under the laws of the State of Georgia. In November of that year, we were recognized as a federally tax-exempt 501(c)3 charity under the provisions of the Internal Revenue Code. In January 2010, we changed our name to Humane Society for Greater Savannah – to more accurately reflect our area of service. We receive no funding from any government agency or animal welfare organization, including the Humane Society of the United States.
In recent years, we have been able to open two "Pick of the Litter" thrift stores featuring donated goods. Fully 100 percent of the profits from our thrift shops go to the animals in our care. In 2016, we also opened Pet Fix Savannah—our on-site, low-cost spay/neuter clinic—which, as of December 2018, has altered 3,500 dogs and cats and provided more than 1,735 vaccinations.
What are the biggest challenges the Humane Society for Greater Savannah faces?
We take pride in the level of public education and care we offer; however, this is often one of our greatest challenges. We emphasize how important it is to understand the hard work, dedication and time it takes to own a pet—which greatly decreases the number of dogs and cats that are owner-surrendered to us or returned shortly after being adopted. We teach our community about the dire need for vaccinations and preventatives as we treat a vast number of dogs for heartworm and other ailments that could have easily been prevented.
Every animal we pull from death-row shelters or are surrendered to us undergoes a thorough and immediate evaluation by our team of dedicated medical professionals and behavioral trainers. The animals are then fully vetted (including spay/neuter services) and are properly cared for before being moved to our adoption center. The challenge here is cost of care. The fees for our surrenders and adoptions do not cover the total amount we invest in the pet's overall well-being. We rely entirely on donations to make up the difference. After all, their health and happiness are our top priority.
Running a rescue and helping dogs can be tough, both emotionally and physically. Can you share a tough experience or trying moment for the Humane Society for Greater Savannah, and what you did to overcome it?
A few months ago, someone surrendered two adorable Pitbull puppies to us. They were smaller than they should've been at that age and had never been vaccinated. Instead of bringing them into our shelter setting, we asked one of our fosters to take them home to provide extra love and care. She followed our strict instructions and did not allow the puppies outside until they were fully vetted; however, one of the puppies—Rambo—almost immediately started to show symptoms of being sick.
After having him tested at a partner veterinary hospital, we discovered he was suffering from parvo. The prognosis was very poor. We were caught up in an untenable situation. We were unable to bring him to the shelter because he posed a high risk of contagion. And yet we were unable to return him to the foster because he was at risk now of exposing his sibling to the disease. And so, we were forced to make the very painful decision to have him euthanized. Our shelter has an extremely low euthanasia rate—almost zero—but extreme situations like this, however rare, are intensely painful. After all, we're animal lovers above anything else.
Fortunately, through great effort, we were able to nurture his sibling back to a healthy, happy state; he was adopted shortly thereafter. He's now a happy resident of his forever home. Realizing that we cannot save them all is one of the most difficult parts of rescue. There are many moments in the everyday activities of a shelter that want to break you—but then you see one you've been able to help and it's completely worth the ride on an emotional roller coaster.

Do you have a network of fosters in the Greater Savannah area or are all dogs at your facility?
Primarily the dogs stay on-site, but any needing that extra bit of attention are cared for by our foster team. We could not do this without our incredible group of dedicated and knowledgeable fosters.
Where does your primary financial support come from?
As a 501(C)3 non-profit, we rely entirely on the support of the community through donations and adoptions.
How many dogs on average do you place in their forever homes annually?
In 2018 alone, we placed 661 dogs in their fur-ever homes and were able to provide behavioral training and medical attention to 38 pets that were then able to stay with their owners.
For those reading this, if they want to help fight the good fight, what can they do to help?
Donate, volunteer, foster, spay/neuter, and adopt! The smallest contribution goes a long way toward building new and improved lives for these pets. For anyone interested in supporting our mission to better the lives of pets and people, you can contribute by donating!
If you want to follow the Humane Society for Greater Savannah, like them on Facebook, check out their available dogs, and donate today.