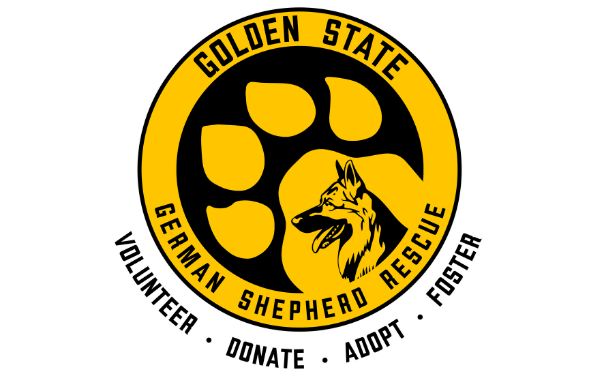 For the month of November we're excited to name Golden State German Shepherd Rescue as our Rescue of the Month! This GSD, or German Shepherd Dog-specific rescue goes to any length to help the dogs they rescue. Learn more below about their history and the amazing work they do every day.
Tell us about how Golden State German Shepherd Rescue was started?
There were five original founders of Golden State. All of us were in a larger rescue group but certain shelters in the Bay Area and in the Central Valley were not getting the much-needed attention and service and since we lived in these areas, we decided to break from the other organization to start Golden State German Shepherd Rescue.
Each founder contributed personal funds to get Golden State rescue up and running. Our first fundraiser was held in a lovely commercial building. The owner waived the rental fee and most of the services were either donated or discounted. We had a few large sponsors and with the generosity of the building owner, vendors, and donations we were able to clear a substantial amount which got us on our feet and enabled us to begin operating.
That was back in 2009 and we continue to operate today.  
Is there a personal story behind your mission?  
I believe the personal story is the same for all rescue groups and for all volunteers. We love this breed and we try to save as many dogs as possible and give them the love and attention that they deserve and hopefully help them forget about the cruelty many of them have experienced in their life.  
What are the biggest challenges GSGSR faces?  
Some of the biggest challenges that GSGSR faces is the sheer number of German Shepherds within our area shelters. At times there can be up to 50 GSDs in ONE shelter alone. That's one shelter out of hundreds in the areas that we work in. Also, finding dedicated volunteers that are committed and in it for the long haul seems to be a difficult task. GSGSR is a very small organization, and sometimes having the lack of manpower to help with running all the tasks on a daily basis can really hurt us. Having a lack of foster homes is also a giant roadblock. 
We are a foster based rescue, that needs the availability of foster homes so that we can give our dogs time to decompress and heal from their previous life. Finding a foster home for a German Shepherd isn't always the easiest thing to do. German Shepherds are not easy dogs, and require a lot of time, patience and work, hence the overabundance of GSDs in the shelters.
Our biggest challenge is the one that we cannot control. Backyard breeding has become an epidemic in this state, and not just for Shepherds. So many dogs sit and then die in shelters, because of the increasing numbers brought in. Shelters cannot keep up. People need to do their research when buying a puppy. Make sure it's a reputable breeder with good conditions for the dogs. We can't stop people from buying dogs but hope that we can educate people to the fact that rescue dogs are amazing. We have purebred GSDs all the time, that were bought as puppies and returned once they realized they were too much to handle. 
Running a rescue and helping dogs can be tough, both emotionally and physically. Can you share a tough experience or trying moment for GSGSR, and what you did to overcome it?
It always tough on volunteers, especially the evaluators, who go into shelters. To see dogs that have been severely neglected and possibly abused is extremely heartbreaking. Baylen, a 3 month old puppy, who was surrendered to the shelter, with his left eye hanging out of its socket (that ultimately had to be surgically removed) and TJ, a two year old male, who was brought into a shelter with a broken leg. Everyone thought he had been hit by a car but his foster family believes he was severely abused and his leg was possibly broken intentionally.
We have so many other stories similar to Baylen's and TJ's...to numerous to count. And then there are the dogs we cannot rescue for various reasons (bite history, aggression, severe separation anxiety, etc.). To have to walk away from any dog affects volunteers to our core. But we all do the best we can to try to save as many dogs as possible, sometimes to the detriment to our emotional and physical health. But the payoff is, when we see these dogs go to a family THAT PICKED THEM, it does make what we do worthwhile. That's what keeps us going!
Do you have a network of fosters in the Central Valley that help care for the dogs or
do the dogs stay in a facility?
We do have a network of foster homes throughout the Central Valley, Sacramento Valley, and Bay Area. We like to have our dogs in a foster home so that we can evaluate their behavior inside of a home. How do they interact with the humans? How do they interact with the other pets? Are they food motivated, are they possessive? How do they walk on leash?
We have our fosters take notes on EVERY noticeable behavior trait for the dogs in their home. This way it makes it easier for us to place the dog with the right adoptive family. And on several occasions, we have had some challenging cases, but our foster homes stayed true to the dog, worked with them, and worked with trainers until their forever homes could be found. Foster homes are crucial to the development, safety, and adoptability of our dogs.
Where does your primary financial support come from?
Our primary financial support comes from our network of donors. We have been around for 10 years and have developed a strong bond with our volunteers and donors. We need this support to help keep us running. The costs of rescuing one dog typically exceeds the adoption fee. Our donors help us to cover the major medical expenses (spay and neuter surgeries) as well as they help out with any unforeseen accidents & related surgeries, such as amputations, eye removals, and the like. 
We are lucky to have sponsors that love German Shepherds and tend to donate large amounts. We will also occasionally hold donation drives if we come across a dog that has a major medical need. Our social media warriors really help to pitch in when we need it most.  
How many dogs on average do you place in their forever homes annually?
Over the past 10 years, we have rescued and placed about 800 dogs into forever homes. Our goal is now to do at least 60 per year. And another goal is not just to place dogs but keep our returns to a minimum.
For those reading this, if they want to help fight the good fight, what can
they do to help?
Adopt don't shop! Volunteer. Foster. Shelters and rescues are understaffed and over worked. Go out and help out with a rescue that speaks to you as well as your local shelter. Spend time with dogs who have been discarded and left behind.  
What are the plans for the future of GSGSR?
Although we don't know what the future holds, our goal is to find a larger network of foster homes that can help us rescue more dogs. Our goal at GSGSR is to work with adoptable dogs that we know will be a good fit for the families coming to us. We have such a great connection with our adopters and really thrive on creating new families. It's about saving dogs and making people happy.
The quote "who rescued who?" really does apply to many of our adopters. Seeing these lives change when they bring in a new family member makes us so happy and proud to do what we do, and we hope to continue in this manner for a long time!
If you're interested in helping Golden State German Shepherd Rescue, donate today or like them on Facebook and follow them on Instagram.