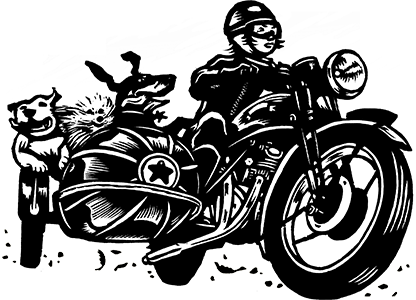 Pali Boucher started Rocket Dog Rescue in 2001 with the mission of helping create a world where all companion animals having loving and permanent homes and where no good natured dogs, no matter what their age, are killed because they are considered to be surplus or un-adoptable. Boucher's story is truly inspirational, and we are so honored to name Rocket Dog Rescue as our Rescue of the Month for September. 
Before starting Rocket Dog Rescue, Pali was homeless living on the streets of San Francisco. Growing up, her mother struggled with drugs, mental illness and was homeless. Pali's mother had passed away when she was 10. For a short time after, she was in foster care, then with her dad, and then back on the streets.
While homeless, she would visit the dogs at the San Francisco SPCA, which at the time was a kill shelter. She would say hi to the dogs and give them some attention. "I wasn't looking to adopt. But there was this one hound dog always baying at the top of his lungs. I fell in love. So somehow, I got the money, faked an address and adopted him," Pali recalls. His name was Leadbelly.
Taking care of a dog while homeless can come with significant challenges, and Pali unfortunately faced many of them. She was in and out of jail and was very close to losing Leadbelly a couple times. This was when she realized she needed to make a change in her life and decided to enter a drug program. Pali found a friend who would care for Leadbelly during her recovery. About a year later, she was clean and sober and had Leadbelly back in her life. It was at this time that Pali's subsidized housing was approved, and she was so grateful to have a roof over her and Leadbelly's heads.
Pali spent the following years fostering many dogs. Sadly, Leadbelly died in 2001, but with his passing came an idea. "I wanted to go the next step and create my own nonprofit. My core group of about 10 friends became my board of directors and volunteers. Rocket Dog Rescue is a tribute to Leadbelly. He helped me learn how to take care of myself by taking care of him," said Pali.
For more than a decade, RDR operated without a facility and was solely dependent on their network of fosters around the Bay Area. After much hard work, dedication, and fundraising, Rocket Dog Rescue was able to open their own Urban Sanctuary and Adoption Center in Oakland, California in 2014.
RDR has saved over 10,000 dogs from euthanasia in overcrowded Bay Area shelters and is exclusively volunteer run and operated. We'll be donating $1 or more for every product purchased from Neptune & Co. to Rocket Dog Rescue for the entire month of September. You can donate directly by clicking here, and can follow RDR on Facebook and Instagram. If you're looking to adopt a dog, check out their available dogs here.